Od pewnego czasu mniej więcej tydzień po publikacji nowego odcinka Mitycznej Astronomii, LML organizuje czat na żywo, połączony z sesją Q&A (podczas której odpowiada na pytania zadawane przez oglądających w komentarzach, lub zebrane wcześniej na Twitterze, blogu na WordPressie, na YouTube itp.).
Właśnie dzisiaj – trzeciego marca 2018 roku – odbędzie się taka transmisja, poświęcona głównie odcinkowi z 24 lutego – A Baelful Bard and a Promised Prince, ale również wprowadzeniu do nowej serii, The Blood of the Other – Prelude to a Chill.
Wprawdzie żaden z tych tekstów nie został jeszcze przetłumaczony na polski (nadal zajmuję się The Mountain vs. the Viper and the Hammer of Waters, czyli czwartym odcinkiem Mitycznej… – najnowszy odcinek to 23 lub 24 (licząc George R.R. Martin is writing modern mythology), ale napisałem skrót najważniejszych nowych teorii, analiz i pomysłów z Preludium – możecie je znaleźć tutaj. (Wyjaśnienie o co chodzi z serią Odcinki Mitycznej Astronomii w skrócie znajduje się w tym miejscu).
Gorąco (a raczej chłodno, biorąc pod uwagę o czym opowiada seria Krew Innego) zachęcam do obejrzenia tej transmisji, a jeśli macie taką możliwość, przeczytania najnowszych esejów LMLa.
Livestream rozpocznie się około 21:30 (czasu polskiego, 15:30 EST).
Gościem LMLa będzie Crowfood's Daughter, autorka esejów m.in: o Garthcie Zielonorękim i Szarym Królu (jako braciach i manifestacjach archetypów Króla Dębu i Ostrokrzewu) oraz o religii i mitologii Żelaznych Ludzi. Od lutego 2018 roku Crowfood's prowadzi kanał The Disputed Lands (pierwszy odcinek: o Cieniu Wieczoru (Shade of the Evening) i czarnym olesitym kamieniu).
Wydarzenie rozpocznie się za nieco ponad 8 godzin (gdy piszę te słowa jest 13:20), na kanale Mitycznej Astronomii na YouTube:
Link to zaplanowanego livestreamu: The Bael that was Promised LIVESTREAM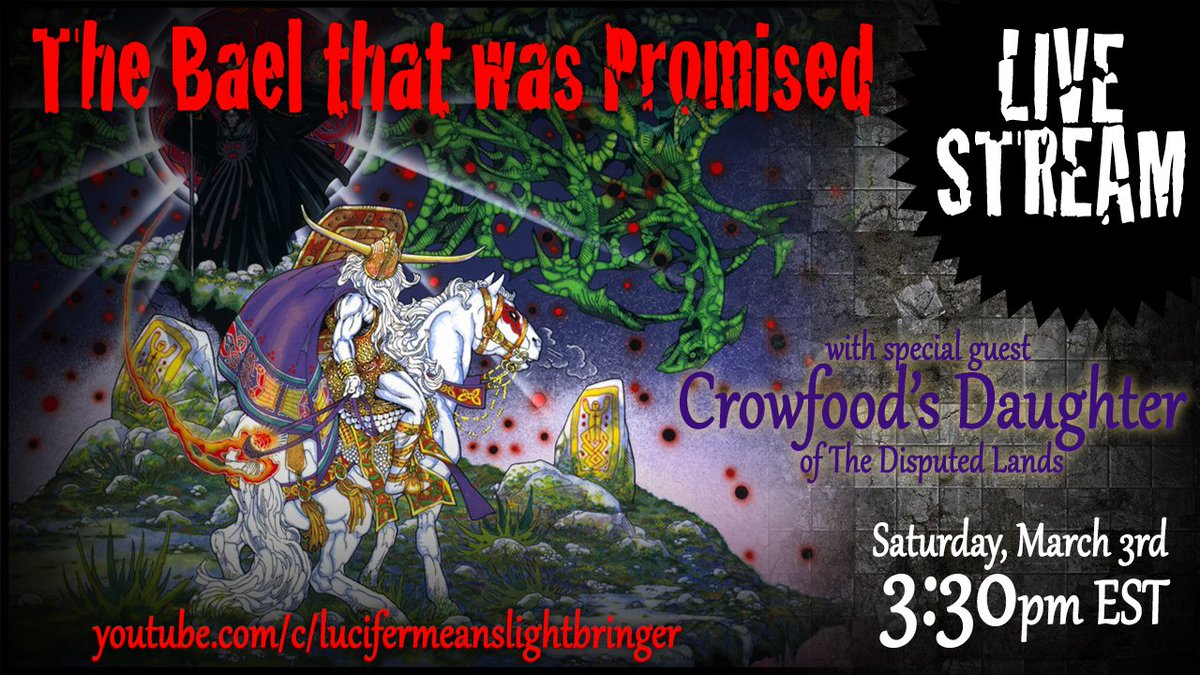 (Możliwe że YouTube spłata figla i powyższy link nie zadziała o 21:30, w takim wypadku wystarczy wejść na sam kanał i odświeżyć).
Jeszcze raz, serdecznie zachęcam do dołączenia do LMLa, Crowfood's oraz wielu innych fanów Pieśni Lodu i Ognia oraz talentu George'a R.R. Martina.
(Oczywiście, ja również tam będę, jako @BlueTiger).
W razie jakichkolwiek pytań, proszę, piszcie do mnie w komentarzach pod tym postem, na forum Ogień i Lód, na Facebooku (@MitycznaAstronomia) lub Twitterze (@lordbluetiger, nick Bluetiger lub Ar-Pharazon Tar-Calion – ostatnimi czasy sporo rozmawiamy o nawiązaniach to dzieł J.R.R. Tolkiena, zwłaszcza w opowieściach o Dayne'ach, Wielkim Cesarstwie Świtu i mieczach z Valyriańskiej Stali oraz Światłonoścy).
Jeśli nie będziecie w stanie oglądać na żywo, a macie jakieś pytania związane z Mityczną Astronomią (symbolika, mitologia, nawiązania do literatury itp.), możecie przesłać je do mnie, po polsku lub angielsku, a ja z chęcią je przekażę.
Pozdrawiam… i do zobaczenia?
BT